Water Damage Queens
911 Restoration of Queens, NY
Eli and Daniel, owners of 911 Restoration Queens, invites residents to revel with them in the chance to recover fully from water damage.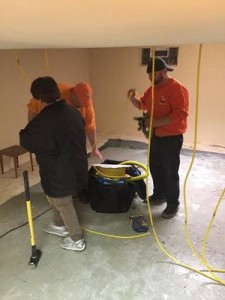 "You have a life to live, so be confident that we will get things in your life back to normal quickly and with the up most professionalism. When you call us, we arrive at your door with every tool needed to get your life back to normal. In fact, things are going to get better than ever," explains Eli.
If you are experiencing a home accident, feel confident in calling us as:
You get help whenever you need it with our 24/7/365 availability.
Same-day service with 45-minute response time, so problems never compound.
You are entitled to a free damage estimate when you call us.
911 Restoration will be at your door with the fresh start attitude, expert technicians, and a vehicle stocked with the most advanced restoration tools available on the market.
If it is something small like a roof leak, or something big like sewage damage, trust that our crew will get you back on your feet in a timely and professional manner.
Call us for the expert care home restoration demands.
Water Damage Restoration

The water damage Queens team does more than boast about our capabilities to provide you with restorative solutions, as we flex it in the certifications we hold.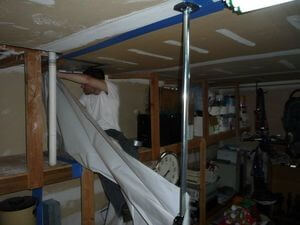 From the EPA Lead Safe Program to the IICRC certification, we have undergone rigorous courses that prove to homeowners we have the skills to get better fast.
Our knowledgeable team can perform any task needed to restore your peace of mind. For example, in the event of a pipe burst flood, the home requires more than just water extraction.
As the porous materials in the home retain water, thus becoming susceptible to mold infestations.
Therefore, we provide you with an extensive dehumidification process that lower the ambient humidity in the space.
With that comes an increase in the rate at which the moisture in the room evaporates.
Things will get better, and it will happen fast. Call 911 Restoration today!
Sewage Backup Cleaning
Not every restoration company is equipped to handle category 3 water like raw sewage, and not everyone is versed in how to react to it. So, the moment you experience backup take the following steps.
If it is coming out of your sink, or toilet, then it may come out of other sources. Shut the water off immediately.
If the backup is occurring in one room, then border it off by closing the door and create an impromptu dam.
Do not interact with waste, as it may make you ill.
Call us at 911 Restoration Queens for sanitation services.
When we arrive we will start extracting waste in a safe and effective manner that keeps you from getting sick. After that we treat the space with a caustic solution that sanitizes the space, in order for a clean and sterile room.
No odors or stains will remain after we are done, so contact our sewage backup Queens team for all the help you need today!
Fire Damage Restoration
The water damage Queens team can handle any home disaster, and included with that are home fires.
In most of the home fires we have seen the majority of the damage comes from the smoke, ash, and soot that the fire created.
And ironically, the water used to put out the flame causes a lot of damages as well.
As the space consist of a pooling soup of things that need repairing, we get to work right away.
Righting two wrongs in one fell swoop is what we are experts at. For example, we vacuum out as much ash as possible while extracting water.
We never recommend trying to tighten the space up yourself, as you can mistakenly massage damage into material instead of out.
Call 911 Restoration for a fire damage Queens team that will work for you to maximize recovery.
Disaster Restoration
The disaster restoration team believes in bringing people the fresh start they deserve, which includes streamlining the recovery process. Therefore, we try to simply it as much as possible.
For example, in the event that a strong wind blows a tree into your home, then what does filing an insurance look like?
Well, that is something that you need not concern yourself with, as our team will work with your insurance company on your behalf.
That's not all. As much as we are water damage experts, we are also tree-from-living-room removal technicians as well.
Basically, if it ruins your home, trust us to repair it.
Call us for all and any disaster restoration in queens today!
Mold Removal
The water damage team has you covered on all the effects of water damage, including mold removal.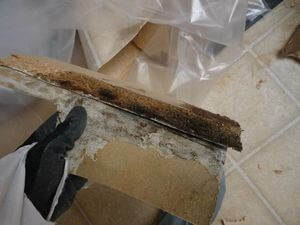 The way in which mold begins to afflict homeowners is in its unsightly look, and nauseating odor.
When a colony breaches the surface. It often has a fuzzy texture, and looks like dirt.
However, it can also be polychromatic. Sometimes it is blue or green. Regardless of where it is, and what it looks like, count on us to fix it.
Even if you see a little bit of mold contact us, as it is always indicative of water damage.
In as little as 24-hours a mold infestation can conquer your peace of mind. But sometimes it is sneakier than that and it can occur 6 months down the line.
Our mold decontamination team at 911 Restoration will remove mold, and restore your peace of mind, so that you can breathe easy.
For the fresh start you need, call us today!