Sanitization and Disinfection Services in Queens NY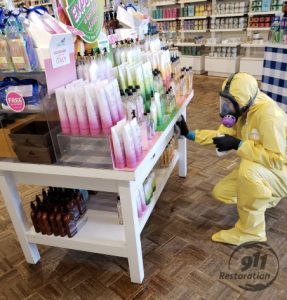 The coronavirus pandemic has escalated rapidly in Queens, Staten Island, and throughout New York. Many in our community feel overwhelmed by evolving and sometimes conflicting information. But staying informed has never been more important. Each of us has an essential role to play in the effort to slow the spread of coronavirus. 
If you're feeling anxious or exhausted, we're here for you. As a locally owned and operated company, 911 Restoration of Queens is part of your community. We are eager to support our neighbors as we all battle this pandemic together. And we'd like to start by clarifying some important facts about the spread of coronavirus.
First, remember to fact-check all new information by visiting reliable websites such as the Centers for Disease Control and the World Health Organization. These resources help keep you up-to-date with new research and developments. We provide the best covid 19 cleaning services in Queens, call us at (718) 428-8296 and please allow us to offer you a free visual inspection.
Be aware of how coronavirus spreads throughout our community. This highly contagious virus is viable on various surfaces for hours and sometimes even days. This means high-touch surfaces such as doorknobs, light switches, and subway handrails can easily become contaminated. Sanitize and disinfect often. Because an individual can spread the virus without exhibiting symptoms, it is always possible that surfaces in your home or business carry coronavirus. Do not assume your living or work space is clear of the virus simply because everyone who enters your property looks healthy.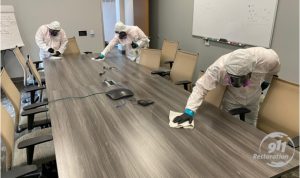 This is especially important to remember if you own a commercial damage restoration facility. You do not know whether the customers entering your property are truly free of coronavirus. You also cannot assume your employees or clients are invulnerable to the virus simply because they are young and in good health. They may be immunocompromised or they may live with someone who is high-risk for a severe or fatal infection. In other words, for the sake of yourself, your family, your staff, and your patrons, disinfect thoroughly and frequently.
We know the burden of sanitizing your home or business can feel overwhelming. And in a community like Queens, perfect social distancing can sometimes seem impossible… especially for essential workers. The threat of exposure to coronavirus is constant, from what you and your customers pick up at work to what you and your family bring home. Give us a call at (718) 428-8296 and see how we can help you with covid 19 cleaning services in Queens.
Let us help carry the burden with professional sanitization and disinfection services. We provide deep cleaning for homes and businesses in Queens, Staten Island, and the surrounding area. Whether you need to have your retail store disinfected or your home sanitized to protect a vulnerable loved one, count on us. Our sanitization technicians are trained to follow the protocols outlined by the CDC and EPA. They serve you with compassion and clarity, eager to help you provide much-needed peace of mind for your family, staff, and community.
These are uncertain times, but if we work together for the good of Queens, we will move past this and on to a Fresh Start. Call 911 Restoration of Queens for sanitization and support. If you are searching for the best covid 19 cleaning companies in Queens, call us at (718) 428-8296 and learn how we can help.