Crime Scene Cleanup in Queens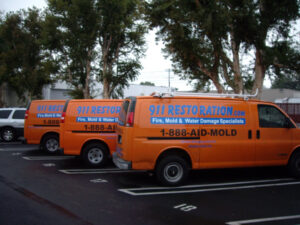 No one is prepared for an accident, homicide, or suicide on their property. Unfortunately, these events happen. After you've received the all-clear by police or other authorities, call 911 Restoration Queens for prompt, reliable crime scene cleanup.
Our IICRC certified professionals are available 24/7/365 and arrive at your property within 45 minutes. You won't have to worry about touching contaminated surfaces, disposing of biohazards, or filing an insurance claim. 911 Restoration Queens provides all of these services and more with a single phone call. 
Crime scenes, biowaste or chemical spills, and hazardous waste accidents require a sophisticated level of property restoration professionals. 911 Restoration Queens is a locally owned and operated company backed by a nationwide leader with over 35 years of experience. 
We understand that crime scene cleanup isn't limited to removing biohazards and harmful pathogens. We know that property owners want a Fresh Start for their home or business. Our licensed, bonded, and insured technicians go the extra mile to ensure that your property looks, feels, and smells clean and fresh. 
Call 911 Restoration Queens anytime, including weekends, overnights, and holidays. We arrive equipped and ready to restore and rejuvenate your property. 
Why Property Owners Should Get Professional Crime Scene Cleaning
There are several reasons why property owners should consider calling 911 Restoration Queens for professional crime scene cleaning. 
First, you've endured a tremendous shock, especially if the victim was a loved one. You probably do not need to add to your emotional and mental stress. Your time is better used for self-care, being with your loved ones, and if necessary, making final arrangements. 
Second, crime scenes are physically challenging to clean. Blood and bodily fluid might be spattered over a large area. Depending on the situation, there could be remnants of forensic solutions or even tear gas. The average crime scene cleanup takes many hours to complete. 
Third, most property owners do not have access to professional-grade cleaning solvents, extractors, dryers, and dehumidifiers. You risk leaving or spreading harmful substances when you attempt to use over-the-counter cleaners for a crime scene and other biohazard events. 
Finally, some crime scenes need more than deep cleaning and disinfecting. 911 Restoration Queens offers property owners complete restoration and rejuvenation services, including:
Get professional service from a crime scene cleanup contractor near you. Call 911 Restoration Queens for a free visual inspection for property owners only. 
We Follow Government and Industry Protocols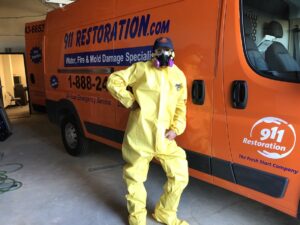 When there is a violent crime or accident, blood and other bodily fluids spread across floors, walls, furniture, and window coverings. It is vital for health and safety that these biowaste elements are removed, and every surface is disinfected and sanitized. 
Our crime scene cleanup and biohazard teams carefully and thoroughly remove all traces of these dangerous substances. Blood contains bloodborne pathogens that infect humans, including hepatitis B (HBV), hepatitis C (HCV), and the human immunodeficiency virus (HIV). Although the coronavirus is an airborne pathogen, our powerful cleaning and microbial products reduce the risk of infection as the Covid-1 pandemic continues. 
911 Restoration Queens is certified by:
Institute of Inspection Cleaning and Restoration Certification (IICRC)

Environmental Protection Agency (EPA)

Environmental Assessment Agency (EAA)

Cleaning and Restoration Association (CRA)
Additionally, we observe protocol from the Centers for Disease Control and Prevention (CDC). These best practices help keep our staff and our customers safe. 
Our highly-trained crime scene cleanup experts arrive in our standard 911 Restoration Queens trucks. No one has to know that we are cleaning, restoring, and rejuvenating your property after a homicide, suicide, or accident. By the time we apply the final polish to your property, visitors and guests see only the beautiful finished product. 
If you've lost a loved one in a homicide or suicide at your home or business, please accept our condolences. Allow us to help you through this challenging time with patience and compassion. Call 911 Restoration for trustworthy, expert crime scene cleanup and bio waste disposal.