Mold Removal Queens
When it comes to mold removal, 911 Restoration Queens is available 24/7/365 to assist you. We make it our first priority to give you excellent, affordable, same day service.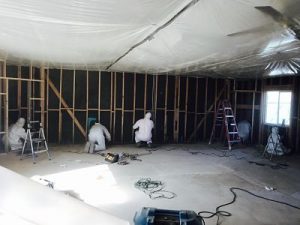 When you contact us, you can rest assured that a team of technicians will be dispatched and arrive at your address within 45 minutes.
Mold growth can often be an indicator of other pressing problems that happen beneath the surface.
If you have extensive mold growth that may have infiltrate your home's internal infrastructure, it is very important to have an experienced technician with the right equipment to handle proper remediation.
Because we are a full-service restoration company, we can readily identify and address all home building and restoration issues: giving you back your home as well as your peace of mind.
Call our mold removal Queens experts in to ask about our free mold inspection offer, exclusive to homeowners with visible mold growth today!
Why Mold Removal Should Be Handled by Professionals
Depending on the scale and severity of your mold problem, we recommend that you consider a professional mold removal service. If you have very little mold growth that has been caught early, a bit of elbow grease and household cleaning product will go a long way.
Some examples of mold infestation that requires professional help are:
Black mold spores, indicating long-term mold problem
Mold growth spreading over area larger than 2 square feet
Mold growth in hard-to-reach places such as roof or crawl space
Mold growth on hard materials that require professional remediation methods such as wood or concrete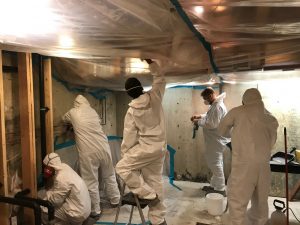 We pride ourselves in giving you excellent mold removal service and positive customer experience. Our phone line is available 24/7/365 year-round to take emergency calls, and our technicians are always ready to tackle your mold problems, no matter how big or small.
911 Restoration Queens is IICRC certified for safe mold removal that will not leave behind harmful chemical residue. We make sure all your mold, visible or not, are gone. Our process also includes sanitation and deodorizing to ensure your home is ready for re-habitation.
On top of mold removal and home restoration service, we also provide you with comprehensive insurance claim support. We understand both sides and try our best to give both the insurance adjuster and homeowner what they need.
As a professional restoration business, we are in contact with claim professionals on a daily basis. This gives our clients a clear advantage in getting their mold removal covered.
Call our mold removal team in Queens to speak to one of our representatives about our on-site mold inspection offer to homeowners today!
Why Prompt Mold Removal Is Necessary
Asthma and allergy are two biggest health risks when it comes to mold, according to the Centers for Disease Control and Prevention.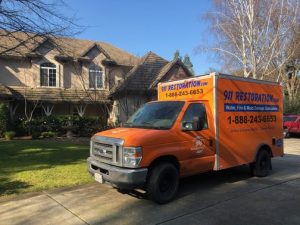 These risks increase exponentially if you and your family reside in or near a big city such as New York City where air pollution is responsible for 6% of deaths annually.
While mold can generally be kept at bay with preventative cleaning measures, excess moisture from water damage or highly humid weather can induce spontaneous mold growth.
Since young children and elders with weaker immune system are particularly sensitive to respiratory issues, prompt mold removal is necessary to ensure your family health and well-being.
As mold can have many root problems, an earlier assessment means quicker time of recovery and elimination of root causes. At 911 Restoration Queens we use the latest drying technology to extract all excess moisture to eliminate recurring mold growth.
We even offer air quality tests with lab-certified results. The lab process will take 3-5 days, but our clients have reported that having their air quality tested improve their chance of getting insurance coverage for mold removal.
If you think you have a mold growth in your home, contact our mold removal team in Queens with 911 Restoration Queens today!