Water Damage Forest Hills
Homeowners do not have to live with a leaking roof, instead, call the water damage Forest Hills pros at 911 Restoration of Queens the moment you notice water dripping into your home and they will fix it up better than new.
Our entire water damage Forest Hills operation is IICRC certified to provide you with all types of flood and leak remediation services, including:
Toilet overflow sanitization

Pipe bursts remediation

Washer hose bursts correction

Mold and fungus infestation cleanup

Water heater leak repair

Fire sprinkler malfunction restoration

Flooded basement water removal

Flooded crawlspace cleanup

Complete repair of all damage
We always guarantee to arrive within 45 minutes, no matter what time you contact us, because we know that fast service is crucial to a successful water damage remediation job.
To best serve you, our water damage Forest Hills techs are available 24/7/365, so call us the instant a water disaster effects your home, and we will conduct a free home inspection as soon as we arrive.
Keeping Your Roof Water Damage Free Is Our Job
Most of the time it does its job, but during the few times that your roof fails and water is able to leak inside, our water damage Forest Hills experts will be there to cleanup the mess.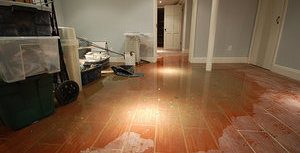 Homeowners expect that their roof is going to keep them safe against the harsh elements like hail, rain, sleet, snow and wind.
We use comprehensive techniques that make it easy for us to locate the source of the problem, extract all the water from the home's interior and make any repairs.
Our water damage Forest Hills professionals will also visually inspect the premises for mold and conduct any eradication services that are necessary.
We always cover all the bases when we are on your property, because it is our top priority to keep you safe under all circumstances.
Call us the moment you notice any water stains on your ceiling or other signs of invasive water in your home, and we will go the extra mile to get it cleaned up quickly.
We Always Make Sure To Have Satisfied Water Damage Customers
Even though our water damage Forest Hills team is here to get rid of all your flood damage issues, our real main concern is your ultimate satisfaction with our services.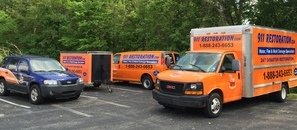 When we arrive, we make a big effort to put you at ease, because we know that dealing with a water-based emergency is traumatic for a homeowner, and we are sensitive to that.
Along with being your emotional support, our water damage Forest Hills staff will also assist you with your insurance policy, even filing your claim for you if you need us to.
It is important for us to keep your out of pocket expenses low, so long with working with all insurance companies, we also offer affordable prices on all of our services.
Call our water damage Forest Hills technicians at 911 Restoration of Queens today and we will turn your home flood into a fresh start.