Water Damage Ridgewood
A flooded basement needs to be remediated quickly, which is why you should call the water damage Ridgewood crew at 911 Restoration Queens right away upon discovering the flood.
  It doesn't matter what time you call, we are available 24/7/365. Our water damage Ridgewood unit guarantees to be at your home within 45 minutes, even if your emergency occurs in the middle of the night.
We are IICRC certified to provide you with all water damage restoration services, including:
Toilet overflow sanitization

Pipe bursts remediation

Washer hose bursts correction

Mold and fungus infestation cleanup

Water heater leak repair

Fire sprinkler malfunction restoration

Flooded basement water removal

Flooded crawlspace cleanup

Complete repair of all damage

Black Water Cleanup

Sanitization

Odor Control
Our water damage Ridgewood techs will begin the process with a free home inspection, making it easy for you to call us even if you are unsure about the extent of the damage.
It is part of our mission statement to implement same day services for all issues involving water, that way we reduce any damage the moisture can caused.
Call us as soon as you come across floodwater in your household, and our licensed, bonded and insured water damage Ridgewood experts will take care of you today.
We Won't Let A Flooded Basement Get You Down
It is not uncommon to keep important items in the basement, especially if your home does not have significant storage space. In fact, many homeowners not only use it as a place of storage, but as a laundry room, kid's play area or even as a guest room.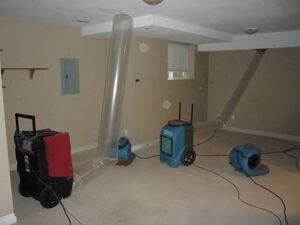 Unfortunately, the basement also contains a lot of the home's piping system. There isn't normally much insulation down there, which can lead to plumbing issues during the winter.
When pipes get too cold, they can freeze. This means that any water inside those pipes freeze as well, causing the pressure inside the piping to increase.
When the water expands to this point, it can cause the pipes to burst, especially if they already have hairline cracks that have previously gone unnoticed or if they plumbing system is old.
If this happens to occur when you are sleeping or away from the home, water can flood the basement by the gallons, causing significant damage.
Call our water damage Ridgewood professionals when any type of flooding incident occurs and we will go the extra mile to restore your home.
Water Damage Restoration Requires Excellent Customer Service
Discovering that your basement has ankle deep waters, or finding out that some other water-based disaster has caused destruction to your property, is never something a homeowner is prepared to handle.

Our water damage Ridgewood team has many years of experience dealing with these types of issues, so they know exactly what you must be going through when you find yourself caught in the middle of water damage.
By providing you with quality customer service, we hope to make this whole ordeal as easy as possible for you.
We make sure that we are constantly accessible to our customers, that way we can answer your questions and calm your concerns immediately.
Let us prove our dedication to you and your home, and call our water damage Ridgewood staff at 911 Restoration Queens and let us help you today!