Tips for Keeping Your Bathroom Mold Free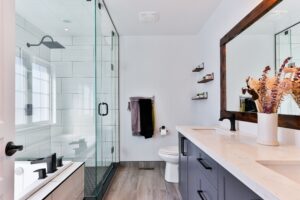 All of us have certain cleaning and sanitation battles that we rather wouldn't talk about. The idea of gross cleaning procedures can put us all off, which is why we avoid talking about such cleaning procedures. 
However, regardless of our initial perceptions, the fact of the matter is that some cleaning processes are a lot more common and universal than we might imagine to be. Each of us is looking for ways to keep our homes as clean as possible, which is why we encounter these problems on a regular basis. Some cleaning procedures might be a bit more embarrassing to talk about than others, but what has to be done should be done. 
Bathroom mold is one critical cleaning struggle that most homeowners want to keep to themselves. The gross look of mold, coupled with the health hazards that it might host, scare homeowners away from discussing the problem with their friends and family. 
Mold is mostly prevalent in the bathroom because the wet bathroom floor and the dampness of the area can be perfect breeding grounds for mold. With moisture from the steam in the bathroom and the accumulation of water left in tubs and toilets, mold is a disaster waiting to strike in your bathroom. 
In this article, we take a look at some of the ways and techniques you can follow to keep your bathroom free from mold of all kinds. Stay with us as we discuss and find solutions to the issues that come with mold in the bathroom. 
Keep the Bathroom Fan On 
The first tip you can follow to keep mold away from your bathroom and other areas is to keep your bathroom fan turned on at all times. A bathroom fan or shower fan is extremely necessary for your bathroom area as it ensures proper ventilation inside of the region. 
If you don't have a built-in fan inside your bathroom, now is the time to get a new fan installed and turn it on for the future. Mold shouldn't be allowed to accumulate inside the bathroom region, which is why it is absolutely necessary that ventilation is on point and the bathroom fans are installed and working accurately. 
Open Windows after Shower 
The steam coming from a hot shower can be a major cause of mold inside your home. If you want to safeguard your bathroom from mold of all kinds, you should open your bathroom windows after a shower. 
Opening the windows, if you have some in your bathroom, will allow you to breathe in fresh air and also enjoy the sunlight that comes to them. 
Hang Wash Rag and Towel 
If you use a washrag or a towel, you should preferably hang it up to dry. Never leave your shower or wet water rag hanging around for long. The rag or the shower will attract water in the long run and take longer to completely dry. 
The wet surface of the washrag can act as a conduit for mold growth, as it influences the generation of bacteria in the space. All items used during a shower can be hung somewhere open so that they dry out faster and don't take much time. 
Have a Squeegee 
Using the squeegee can be a difficult task to manage, especially if you are running late for work in the morning, and don't have the extra time to run the squeegee around the entire place to clear away any stains or standing water. 
Take a minute after every shower or bath to clear your water up and make sure that the wall and the floor are kept dry and secure. Bathroom squeegee can make the process easier and allow you to reduce the moisture in the room. 
Fix the Leaks 
Mold is usually the end result of water leaking from somewhere in the house and accumulating on the surface of your bathroom floor. Leaking water lines can play a massive part here, as the water leaking from them accumulates on the floor and can cause mold in the long run. Bathroom mold does not only come from the water in your shower or your bath. In fact, most cases of mold come from dripping faucets or leaking water, which is often ignored. 
Wash Bath Mat 
The use of wet bath mats in the long run, can be extremely unnecessary for your bathroom. The wet bath mats lead to mold on the floor, as they can be good breeding grounds for it. You can easily wash your bath mats regularly to make sure that they don't accumulate mold at all. Different mats can be placed conveniently after the wash to make sure that they don't get wet easily. Mats can be the single most common source of mold infestation in residential users, which is why they should be washed regularly. 
Mold cleanup can be an extensive process if you don't have the right team available. 911 Restoration of Queens is just a call away for you! You can get in touch with us to perform a thorough inspection of your sewerage and clear it up for future use.