Holiday Light Safety Tips – Preventing Fire Damage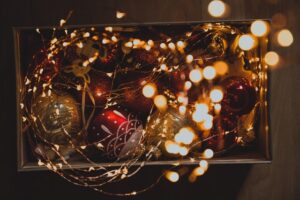 Decorating your home with strings of multicolored holiday lighting can make it look bright and cheery. However, did you know that these sparkling bulbs and fairy lights have the potential to set your property on fire? Though they may seem innocent and harmless, holiday decorations are the leading reason behind house fires in the winter months. So, before you get immersed in the Christmas spirit and start decking the halls, please make sure to check out our holiday light safety tips to protect your home against any damage.
Holiday Light Safety Tips
Our fire and smoke damage restoration company in Queens recommends all homeowners follow these fire prevention tips for a safe and wonderful holiday season.
Without further ado, let's begin.
1. Inspect Your String Lights
Who doesn't love string lights? However, before you grab a ladder and begin decorating the exterior of your home, please make sure to thoroughly inspect each strand of light for any signs of damage.
Broken sockets, frayed wires, and loose connections are considered leading fire hazards. Therefore, if your string lights are not in the best condition, it may be time to discard them and invest in new ones that will keep the holiday cheer alive while keeping you and your family safe.
2. Replace Broken and Burned-Out Bulbs
If you have been using the same holiday lights for the past couple of years, there is a good chance that some of the bulbs may have burned out. While no one is likely to notice a few missing bulbs, it is a good idea to replace them as soon as possible to prevent electrical shocks and house fires. Leaving the sockets empty is also not a good idea as it can cause the string to overheat.
Moreover, broken bulbs can result in deep cuts. They are also extremely dangerous if you have young children in the house or furry companions who can't get enough of the new decorations.
3. Only Buy Lights with a UL Logo
Our third-holiday fire safety tip is to only use indoor and outdoor lights that come with the UL logo. This seal indicates that Underwriters Laboratories, a global independent safety science company, has tested the product according to its specific safety standards. The lighting fixtures that pass the UL test are considered safe to use.
Since many Christmas tree fires are alarmingly common during the holiday season, we recommend you switch your old lighting with UL-rated alternatives for fire prevention.
4. Don't Use Nails or Staples to Hang Holiday Lights
Hanging your holiday lights with nails and staples may seem convenient. However, these metal fasteners can cut through the wire insulation and generate heat, ultimately starting a fire. To make matters even worse, if an exposed electrical wire comes in contact with a nail or staple and then touches your gutter or downspout, it can potentially electrocute someone.
Therefore, the experts at our restoration company in Queens advise homeowners to use insulated clips and holders to hang their holiday lights.
5. Don't Overload Electrical Outlets
Keeping your electrical circuits from overheating is crucial for a safe holiday season.
While light strings only require a few milliamps of current to brighten up your Christmas tree, connecting too many lights to the same extension cord or electrical outlet can be a recipe for disaster. This is because an average circuit breaker can only handle about 15 amp of current. If you overload the same outlet with multiple decorations, it can overheat and damage your electrical wiring.
Hence, it would be best to limit the number of lights connecting to each extension cord. If your Christmas tree has more than three sets of lights, consider plugging them into different circuits for fire prevention.
6. Take the Holiday Lights Down Within 90 Days
We all have that one neighbor who keeps their Christmas decorations up until late February.
Now, one may argue that there is nothing wrong with lighting up your house any time of the year. While that's absolutely true, we would also like to point out that the longer those light strands hang from your walls, the more likely they are to suffer weather damage and start a fire. Moreover, pets can accidentally chew on them and get injured.
Hence, it is suggested to remove holiday lighting within 90 days to avoid any property damage.
7. Store Lights Safely
Last but not least, one of our most crucial holiday fire safety tips is related to improper storage.
Once the holiday season is over, many of us simply remove the lighting from around the house and put everything together in one big box for an entire year. Consequently, all strings get tangled up, which can result in broken bulbs and loose sockets. These damaged lights also pose a fire hazard the next time you put them up.
To prevent any accidents, consider wrapping each strand of holiday lighting around a cardboard roll before placing it in a paper bag. This practice will protect the bulbs and wires from breaking.
Our Final Thoughts
The holiday season is all about sharing love and joy with your family, friends, and acquaintances.
If you love decorating your home for the season, following these holiday light safety tips would be best to prevent electrical fires. However, if you ever need help mitigating property damage, please feel free to contact 911 Restoration of Queens for immediate assistance.