How to Clean Your Kitchen to Avoid Mold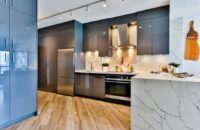 The kitchen has moisture, heat, and food particles, i.e., the causes of mold infestation. If you found mold in your kitchen, you shouldn't be surprised because the presence of these three elements makes it the prime location for mold growth.
Preventing mold infestation in your kitchen should be your top priority because it has a high chance of contaminating your food. As a result, we share our top tips to make your kitchen mold-resistant. So keep reading to learn more.
Causes of Mold Infestation in the Kitchen
Understanding what causes mold infestation in the kitchen is the key to preventing a mold outbreak in your home. Here are all the reasons your kitchen is the center point for mold infestation.
Leftovers
Food that's been left outside for too long can quickly grow fungus. As a result, leftover is the primary cause of kitchen mold. The most susceptible food item is pizza because it has yeast which can quickly grow fungus and allow mold infestation.
Produce
Rotten fruits and vegetables promote fungal growth. Properly disposing of rotten fruits and vegetables n necessary to protect your kitchen. You can do this by sealing rotten fruits and vegetables in a plastic bag and throwing them in the garbage disposal.
If you don't seal rotten fruits and vegetables and throw them in the trash can, you might promote mold infestation without knowing.
Fridge-Mold
Acidic food or produce left in the fridge for weeks can cause become poisonous and cause mold infestation in the fridge. Storing food this way can be extremely dangerous as it can cause an allergic reaction. Food items such as lemon, oranges, and pasta quickly catch fungus.
Tips for Preventing Mold in Your Kitchen
Now that you know what causes mold infestation, it's time to make your kitchen mold-proof. Here's everything you can do.
Regular Cleaning Is a Must
Whether it's dust, the dirt of rotten food, mold, love organic materials and promote their growth. Moreover, leaving food pieces on the floor and water can be the perfect recipe for mold infestation.
Therefore, you should immediately clean such spots before you forget. Ideally, you should clean your kitchen every week or after you've cooked a meal. Following this tip for preventing mold in your kitchen will keep you and your family safe.
In addition, you should keep a close eye on the sink because it often goes ignored. It's the perfect place for mold infestation because it's damp, hot, and has food particles. Try to keep your sink dry and avoid leaving dirty dishes in there for too long.
Remove Spoiled Food
Spoiled food releases water which is a recipe for mold infestation. Therefore, it's best to get rid of spoiled food as quickly as possible. You can prolong the life of dry food items like roasted chicken by putting them in plastic bags. But you shouldn't store food for longer than two days. If you overlooked the pizza you ordered three days ago, it's time to throw it in the trash.
Empty Your Trash Cans Daily
According to CDC, mold can grow within 24 hours. As a result, even small mistakes can lead to a huge mold breakout. To prevent such disasters, you should empty your trash can daily. The tiniest food particles can serve as a breeding ground for mold infestation.
Moreover, always put a plastic bag in your trash can. Otherwise, mold infestation will begin in your bin and slowly spread across your house. In case, you see signs of mold infestation in your house, don't delay calling the experts.
Do the Dishes After Every Meal
Make it a practice to wash the dishes immediately after a meal. It's a healthy habit that prevents mold infestation because your sink is free of food particles. If you have kids, have them do their dishes immediately after a meal.
Don't leave dirty dishes in the kitchen for more than 18 hours because you'll give room for mold and mildew to form a colony in your kitchen.
Clean Cabinets and Storage Space
Spring cleaning is great, but it doesn't mean you should clean your kitchen once a year. To prevent mold infestation, clean your kitchen cabinets every month. Moreover, don't forget about the storage space in your kitchen where you keep most of your non-perishable food.
Check for Leaks
Besides rotten fruits and vegetables, water leakage also promotes mold infestation because mold grows in damp environments. If your sink pipe leaks, it might grow mold without you knowing about it.
As a result, mold particles will enter your food, causing breathing problems and allergic reactions. Call your repair person if you spot a leak in your kitchen and have it fixed as soon as possible. Otherwise, you might have to pay for the hospital bill alongside the kitchen leak repair.
Call 911 Restoration of Queens for Help
Mold infestation is a terrible situation that can cause health problems in your house. Mold infestation can also be dangerous for pets and the infrastructure of your house. At 911 Restoration of Queens, we understand the problem you are going through. Our IIRC-certified professionals are available 24/7 all year round for your assistance. You can call us to know by dialing (718) 428-8296.