Preparing for Natural Disasters in Queens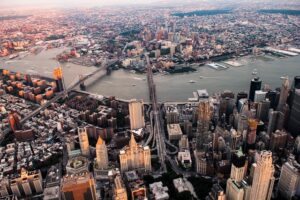 Queens has the highest chances of experiencing natural disasters such as a tornado or an earthquake in all of New York. The fact that Queens is a densely packed village makes matters worse. If you live in Queens, here's what you can do to ensure safety for yourself and your home in case of a natural disaster:
Tips to Prepare Home In Case of an Earthquake
Elevate Your Home's Foundation – This tip alone can add a layer of protection to your home. If you live in a small apartment building, you can get other homeowners to collaborate and make it possible for the entire building.
Elevate the Water Storage Tank – An elevated water tank can significantly help reduce damage in case of an earthquake. Underground water storage tanks will be the first to get affected by it. They can be detached from the sewage pipelines and release all the water on an already shaken ground. However, an elevated water tank will stay intact and safe, continuing to provide clean water after the earthquake during rescue and restoration.
Keep Heavy Items on the Lower Shelf – You or others in your home can suffer injuries from heavy objects falling from above even if the earthquake is mild enough not to cause any other damage to your home. Therefore, keep all heavy boxes on the floor or on the lowest shelf or cabinet to prevent them from falling over someone and injuring them.
Place Heavy Art Work on the Ground – Heavy frames or other art can also cause injuries by falling on somebody's head or toe. It can be damaged too and also damage other items placed below it when it falls. But you can reduce this risk of damaging your material possessions by keeping heavy artwork as close to the ground as possible.
Hang Mirrors or Shelves Away from the Sitting Areas – While you cannot leave all the walls in your home bare, it's important to consider safety while making the best use of your space. You can ensure safety by installing wall shelves and hanging mirrors or art away from places mostly occupied by people. For example, corridors and TV walls are better places to hang things or put up shelves than above the bed, couch, dining table, or desk. If you want to place things around these places, you can put them behind the couch or make them lean on the ground nearby. While it might sound inconvenient and restricting, it's important to prioritize safety over aesthetics. Being away from clutter can save you and others in your home in case of an earthquake.
Opt for Floor Lighting and Fans – Like wall art and mirrors, lamps and fans have a reduced chance of falling and hurting someone in case of an earthquake.
Get Insurance for Your Home Against Earthquake – Having home insurance against earthquakes can help you significantly during the restoration process.
Keep Easy Access to Power and Water Lines – Easy access to power lines will allow you to quickly shut these connections off if you get an earthquake warning and save your home's electric appliances from malfunctioning. During earthquakes, underground power and sewage lines can be affected and can, in turn, affect your home. Shutting them down in time can help significantly.
Tips to Prepare Home In Case of a Tornado
Prepare a Safe Room – Having access to a safe room built for a tornado can greatly help. If you live in an apartment and don't have room for one in your home, get your community involved to raise funds and build a safe room. It will help everyone involved with the project.
Keep Survival Kits for Each Member at Home – This is the easiest way to ensure survival during a tornado. It will ensure you and your family members can survive the harsh Queens weather at any time of the year.
Ensure Easy Access to Power Lines – Easy access to power lines can ensure safety during more than one kind of natural disaster. It will save the electric appliances at your home and hence reduce the possible damage.
Stay Updated with Weather – Staying updated on the weather can help you plan and make important measures. Please never ignore weather updates or warnings. If you ever receive a tornado warning by the authorities, take out the survival kits and shut down the power lines.
Install Back-Up Systems – A backup power generator can keep your family warm in the cold, and a backup communications system can help you reach out to those who can help. You can also get power banks to recharge phones, but communication systems may be halted during a tornado. Get battery-powered radios and extra batteries to stay updated on the weather during the tornado.
Once the natural disaster has passed and you and your loved ones have received the help you need, don't forget to contact a restoration service before you step inside the home. Natural disasters can cause structural damage to homes that may go unnoticed and cause severe problems later on.
Contact a restoration service if you notice any such damage in your home. Many restoration services in New York, such as the 911 Restoration of Queens, provide emergency restoration services for all kinds of natural disasters.